Discover more from EXPOBLVD Publishing
Publishing division for EXPOBLVD, a digital platform featuring 360° immersive maps of the most creative international art exhibitions.
Over 1,000 subscribers
Five questions for Asako Shiroki
On the occasion of the debut of her Belgrade solo exhibition on EXPOBLVD
Asako Shiroki lives and works in Berlin and Tokyo. At the 56th October Salon in Belgrade in 2016 (organized by David Elliott) Shiroki won the Belgrade Cultural Center Award, which included a solo exhibition of her work in the Center's galleries. Belgrade Cultural Center opened her solo exhibition Your Voice, Echoed in October 2019. EXPOBLVD now presents this exhibition for the first time to a global online public as a 360-degree interactive virtual map. We posed five questions to Shiroki about this show, her artistic methods and her current concerns.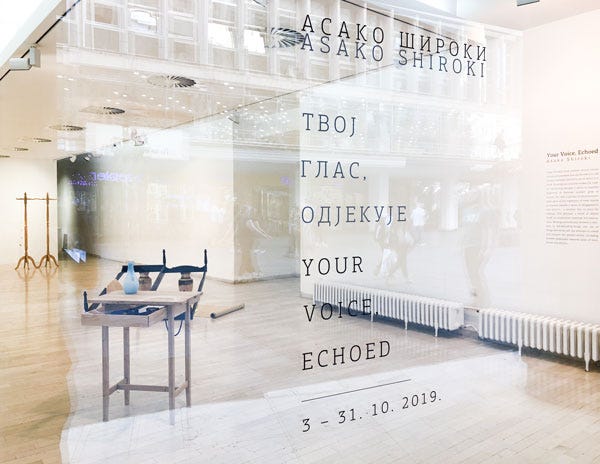 Photo: Asako Shiroki
In your work you follow traditional methods of Japanese carpentry. What are those methods, and why are you drawn to them?
You need some tools in order to make a work of art. In my case, even though I follow some traditional Japanese methods of carpentry or use a number of traditional tools, I am not doing that to show my great technical ability with those tools but to reveal the process, the motions and the act of producing a work of art. In other words, I would like to express the phenomenon that was originally on the other side of the work. My interests lie in the reflections of positives and negatives, of manual habits, things that at a glimpse can be seen as special methods but that take you to a place where it's possible to speculate a different philosophical approach that communicates with different layers of meaning. But also, the materials and techniques I employ don't comprise a part of my individual identity, as I keep a certain distance from them while I produce an artistic work. A sense of distance from the tool is important to me.
My works consist only of shapes, without nails and glue. Each part is assembled and is self-sustaining due to the balance of gravity and mass. Once dismantled, each of the parts that made up the entire work immediately revert back to parts and materials. My works have tension only in this moment in the exhibition space.
You live and work between Berlin and Tokyo. How does each city shape your art?
The context of my practice naturally changes when I create artworks. I used my native language to think when I was in Japan, but now I function in multiple languages. The way we think, our values, culture and the shapes of things around us are similar to some extent, in a linguistic sense. But nothing is the same. It's not the way we know them, even when they look similar at first glance. This unease and the incongruity it causes are feelings that I try to convey through my art. For me, it is more interesting when there's a gap, a chasm between the form of the work as it was conceived and things that happen in the background. Dealing with how my ideas are translated from my native language to a foreign language has given me a new perspective and influenced my attitude as to how I create art in response to my situation.
The works exhibited in Your Voice, Echoed are characterized by surprising juxtapositions combined with an immaculate sense of technique. What were your guiding concerns when putting this show together?
I'm always thinking about whether the technique can move beyond the context and create beautiful misreads from the outline of the work. The more conscientious and precise the work is, the more monotonous the work looks. But my work always remains a fragment of something, or remains a process. Through fragments of furniture and architecture such as a chair, table, lattice or wooden frame, my works provoke physical memories of forms and evoke the viewer's individual memories. At the same time, while forms consistently remain as fragments, imagined function is suspended, floating around without a destination and blurring the outline of these memories. As you follow the blurred memories beyond the haze, it feels as if you have stepped into a different place, as you become more sensitive to sound, scent, the resistance of the air, and colors that you have never been aware of. In this moment, you are likely looking at happenings with an overhead view. I dislocate mutual rules and assign new relationships to happenings that occur simultaneously in this world, such as history and culture, customs, awareness of flora and fauna, and the physical phenomena between tangible and intangible things. I reverse and mix things, including concepts, reflect things in mirrors, or peel away related meanings to let things themselves start a dialogue in different contexts. Different languages are translated, folded and layered with fictions and realities in a moment that leads us to a world in which they are equated.
Who are the artists that have had the biggest impact on you?
I've been touched or inspired by the works of many artists, but it's not easy to cite one because I feel differently depending on my emotions and the environment in which I am placed. In the early days when I started making art I learned about space, expressions and words from the Mono-ha artists. The exhibition by Mark Manders at the Venice Biennale in 2013 was great. His expression is multi-layered and gives me different discoveries each time I look at it, I like his habit of showing and hiding in the process of making the work. And I like the sense of speed that he discovers from a piece of work and chains to the next piece. The artists that I like constantly ask new questions, they discover and are surprised by themselves. I think it's like the circulation of blood. I am attracted to artists who can re-think the conception of things and circulate them to keep them fresh.
How do you spend your time in this new era of distancing and isolation?
I spend a lot of physical and active time in my work. But now I'm quiet, like ash that settles down, or a bird whose wings rest on branches, ready to fly some day. I'm spending a lot of time at home. I immerse myself in the world of books, imagine the feelings of a distant person, and see the plants that have sprung up and remember the season in the beautiful light outside the window, and I realize that time is flowing. Now I think it's a moment to see a view of a world that was not normally visible.