Discover more from EXPOBLVD Publishing
Publishing division for EXPOBLVD, a digital platform featuring 360° immersive maps of the most creative international art exhibitions.
Over 1,000 subscribers
Four questions for Vladimir Kulic
A short interview on Oscar Niemeyer, Museum of Contemporary Art Niteroi and experiencing architecture through VR
EXPOBLVD is currently featuring the exhibition Tempo Aberto by Federico Herrero, which is available on the platform in an immersive 360 degree virtual map. The show was installed in 2019 at the Museum of Contemporary Art Niteroi in Brazil. The instantly-recognizable saucer-shaped museum building is an inventive masterpiece by the iconic architect Oscar Niemeyer. We spoke with Vladimir Kulic, Associate Professor of Architecture in the College of Design at Iowa State University, about Niemeyer's work and experiencing his building in virtual fashion.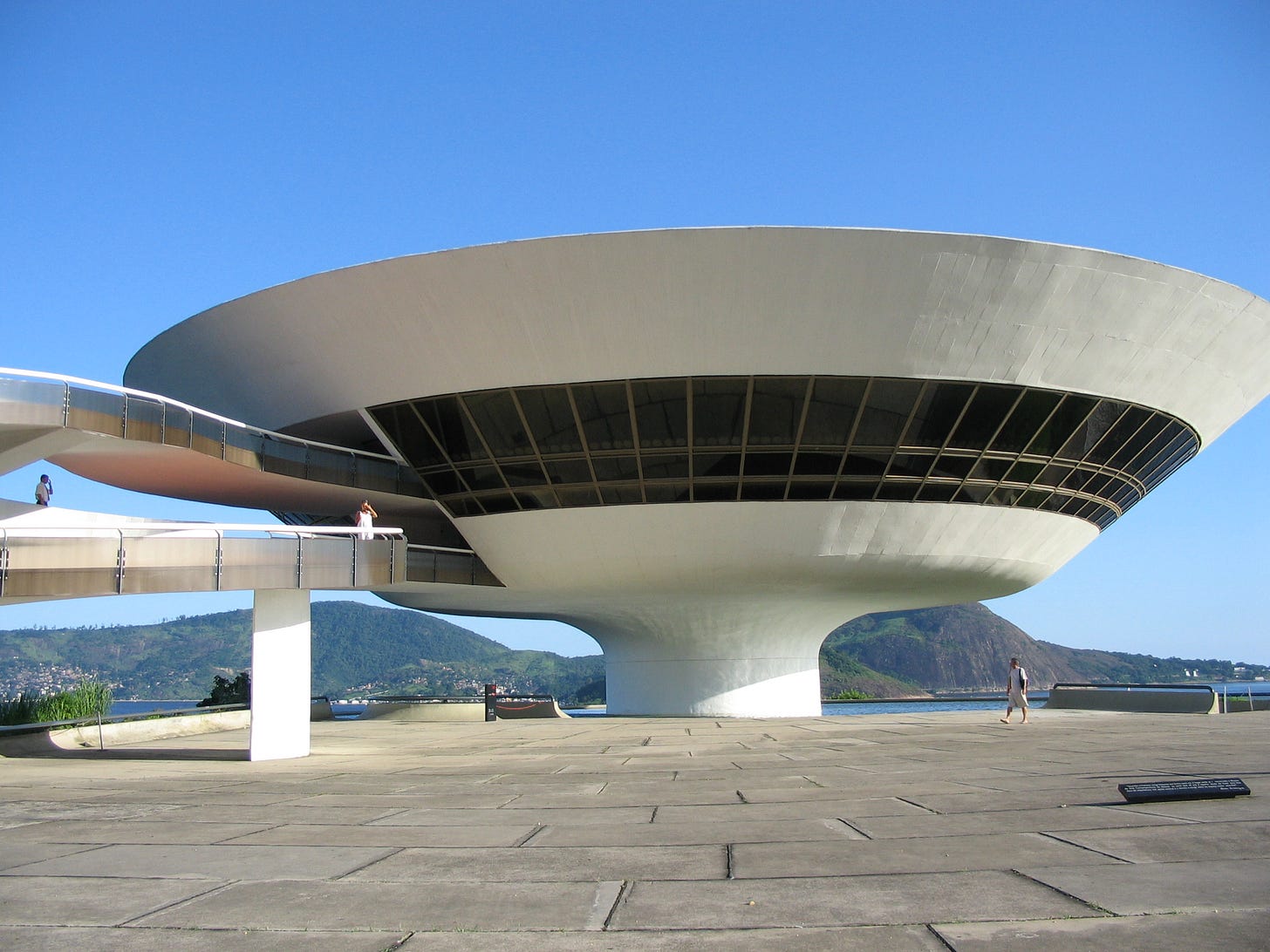 Museum of Contemporary Art Niteroi, Rio de Janeiro, Brazil
What do you feel Oscar Niemeyer's place is in the pantheon of great architects?
Oscar Niemeyer was, no doubt, an incredibly talented architect, who managed to give at the same time a very personal and a more broadly "regional" slant on modernism. But he is perhaps even more important as the first architect from the so-called Third World to break into global stardom. Obviously, he owed a part of such success to politics: his work in Brasilia would have been impossible without the political vision that imagined an entirely new capital for Brazil. Brasilia was the preeminent project of the 1950s for the sheer daring and scale of the endeavor, and it gave Niemeyer unprecedented international exposure. But Brasilia is also inseparable from Niemeyer's name, because he gave it its most memorable shapes. The project's size alone would not have been sufficient to capture the world's imagination and to radiate its influence to such vastly different places as Belgrade and Albany. Niemeyer was also unique among globally famous architects for his uncompromising political convictions: a committed communist, he left Brazil after the 1964 right wing coup, and while in exile designed the headquarters of the French Communist Party in Paris, one of the most astonishing spaces of postwar architecture. From Brasilia to Paris, perhaps his most unique achievement was to impart upon the spaces for bureaucracy – which are typically very staid – an uncanny blend of spectacle and sensuality, in other words to endow them with a slightly surreal air that  subverts the alleged rationality of modern bureaucratic governance.
Having never seen Niemeyer's Museum of Contemporary Art in Niteroi IRL, what unique impressions do you have about the building through the virtual experience of this 360 degree map?
Indeed, I have never been to Brazil, so I haven't experienced any of Niemeyer's major buildings there in person. I imagined that the Niteroi museum must be the kind of space that curators love to hate: so single-minded in its vision that it inevitably overpowers any art exhibited inside. Seeing it with Federico Herrero's site-specific work in the interior convinced me otherwise: that powerful architecture can serve as a productive starting point for contemporary art, rather than a limitation to overcome. At the same time, however, I was reminded of how important it is to experience architecture, rather than to just observe it as an image. The Niteroi museum is so photogenic that it's too easily reduced to two dimensions. Even though VR is not the same as actually walking through the building, it does allow us to move between the different points of view and to catch glimpses of the physical experience. While navigating the map, I could almost feel the giddiness of walking up the serpentine ramp and transitioning from the expansive views of Rio de Janeiro to the introverted interior.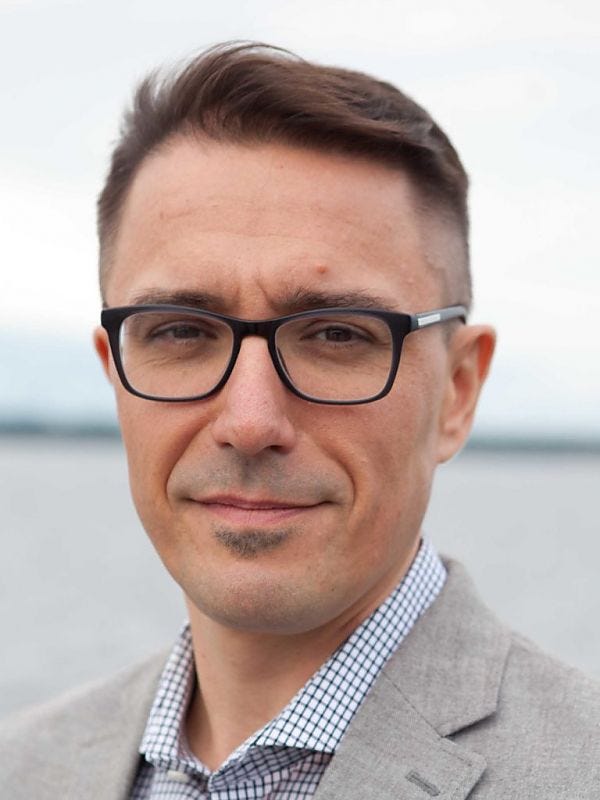 Vladimir Kulic
What tendencies have you noticed in recent years in architecture for art spaces and museums? 
When I was an architecture student in the early 1990s designing a museum or a gallery still seemed like a privileged opportunity to test disciplinary boundaries, so much so that my entire circle of friends – myself included – designed museums, centers for visual arts or similar programs for our diploma projects. However, I don't think that this building type holds the same prestige any more. In the past few decades museums – and, consequently, museum architecture – have become a global business on such a scale that some have termed it the "museum industrial complex". Frank Gehry's Bilbao Guggenheim is the universally acknowledged watershed in that respect, which inspired a veritable explosion of museum construction across the world, accompanied by an insatiable appetite for spectacle. This mass 'museum-ification' is closely related to other recent phenomena like the rise of mass cultural tourism, obsessive heritage utilization, and the "memorial mania", all of which also materialize through architecture. I think that this overproduction has removed the aura from museum architecture, which has largely become a routinized, mainstream type more fruitfully scrutinized for the way in which it participates in global capital flows, exploitative practices, and corruption schemes than for its architectural qualities. That is perhaps a sign of the times: the ethical dilemmas that we face today are so numerous and overbearing that the rarefied atmosphere of museum design appears to bear little relevance. That is not to say that either art or architecture have become obsolete, only that their ethical footing is undergoing a profound shift, very much in line with the rest of the world.
You co-curated the celebrated exhibition of Yugoslav modern architecture at the Museum of Modern Art in New York. What are your forthcoming projects and activities?
I am currently working on a book about Yugoslavia's involvement in non-alignment through the lens of architecture. Another topic of long-term interest is the two hundred-years-long relationship between architecture and socialism.